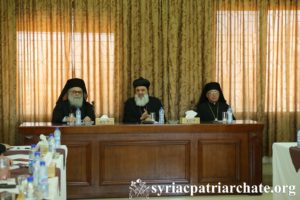 On August 12, 2019, His Holiness Patriarch Mor Ignatius Aphrem II met their Beatitudes Patriarchs: John X, Greek Orthodox Patriarch of Antioch and All the East, and Joseph Absi, Greek Catholic Melkite Patriarch of Antioch and All the East, Alexandria, and Jerusalem, to a meeting at Mor Aphrem Monastery in Maarat Saydnaya.
The meeting was attended by their Eminences: Mor Selwanos Boutros Al-Nehmeh, Archbishop of Homs, Hama, Tartous and Environs, Mor Timotheos Matta Al-Khoury, Patriarchal Vicar in the Patriarchal Archdiocese of Damascus, Mor Maurice Amsih, Archbishop of Al-Jazeerah and Euphrates, and Mor Anthimos Jack Yakoub, Patriarchal Vicar for Youth Affairs and Christian Education, as well as Very Rev. Raban Boutros Kassis, Patriarchal Delegate in Aleppo and Director of the Financial Department, and Very Rev. Raban Joseph Bali, Patriarchal Secretary and Media Office Director.
His Eminence Mario Cardinal Zenari, Apostolic Nuncio in Damascus, and their Excellencies the Christian leaders in Damascus: Armenian Orthodox Archbishop of Damascus Armash Nalbandian, Greek Orthodox Patriarchal Vicar Aphrem Maalouli, Greek Orthodox Patriarchal Assistant Luka Al-Khoury, Greek Orthodox Patriarchal Assistant Youhanna Batch, Syriac Catholic Archbishop of Damascus Mar Youhanna Jihad Battah, Armenian Catholic Archbishop of Damascus Joseph Arnaouti, Head of the National Evangelical Church in Damascus Rev. Boutros Zaour, Rev. Fr. Raymond Gergess, General Vicar of the Latin Bishop in Damascus, Chaldean Priest in Damascus Rev. Fr. Malek Mallous also attended the meeting.
During the meeting, their Holiness, Beatitudes and Excellencies discussed the general situation in Syria and the region. They spoke about the effects of migration of Christians on their numbers in the region. They called upon the faithful to remain attached to the land of their forefathers despite the persecutions and difficulties. They also prayed for the safe return of the two abducted Archbishops of Aleppo: Boulos Yaziji and Mor Gregorius Youhanna Ibrahim.
Concerning Syria, they acclaimed the victory of the leadership, army and people of Syria over terrorism that aims at weakening Syria and dividing it. They emphasized the importance to participate fully in establishing a common vision for the country based on the principles of democracy, rule of law, equal citizenship and respect of diversity. They also emphasized the unity of Syria, its people and its territorial integrity from the Syrian Golan to the Syrian Jazeerah.
At the end of the meeting, a statement was issued.
This slideshow requires JavaScript.