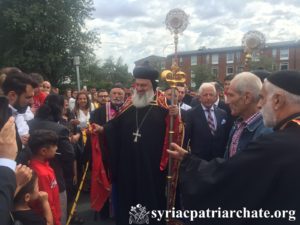 On August 3, 2019, His Holiness Patriarch Mor Ignatius Aphrem II presided over ramsho (evening) prayer at St. Mary Church in Orebro.
His Holiness was received by the Syriac Scouts and then the members of the Choir and the deacons entered in a procession while they chanted the hymn of the entrance of the Fathers.
His Eminence Mor Dioscoros Benjamin Atas, Patriarchal Vicar in Sweden, received His Holiness. He welcomed His Holiness, the successor of St. Peter and the Vicar of Christ on earth. He thanked the Lord for the projects that His Holiness is doing on many levels: educational, developmental, social, and for taking care of the spiritual needs of his flock.
His Holiness spoke about the responsibility of every Christian to spread the faith and to work together for the growth of the church in the glory of the Lord. He expressed his joy to visit St. Mary Church in Orebro for the second time and emphasized the need to preserve the spirituality of the Fathers who transmitted it to us. He said that we can do this through education and prayer which are the pillars of the Christian life of the community.
After the prayer, the committee of St. Mary Church organized a dinner during which they offered to His Holiness the donations they have raised in support of the new monastery in Sweden, the Holy Cross Monastery.
This slideshow requires JavaScript.