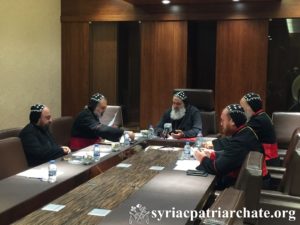 On September 25, 2019, His Holiness Patriarch Mor Ignatius Aphrem II presided over the meeting of the General Secretariat of the Holy Synod at the Patriarchal Residence in Atchaneh, Bikfaya – Lebanon.
Their Eminences, members of the General Secretariat: Mor Justinus Boulos Safar, Patriarchal Vicar in Zahleh and Beqaa,
Mor Philoxenus Mattias Nayis, Patriarchal Vicar in Germany, Mor Nicodemus Daoud Sharaf, Archbishop of Mosul, Kirkuk, Kurdistan and Environs, and Mor Timotheos Matta Al-Khoury, Patriarchal Vicar in the Patriarchal Archdiocese of Damascus, participated in the meeting.
His Holiness opened the meeting with a prayer and then he discussed with their Eminences the different matters listed on the agenda. Reports of the Committee of the Church Constitution, Personal Statutes and the Church Councils, as well as the Liturgical Committee, were read and discussed.
This slideshow requires JavaScript.