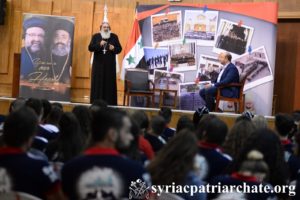 On September 11th, 2019, His Holiness Patriarch Mor Ignatius Aphrem II participated in a Q&A session at the Fourth Suryoyo Youth General Gathering in Syria (SYGG-Syria 2019), at Mor Aphrem Monastery in Maarat Saydnaya – Syria.
Their Eminences Archbishops: Mor Anthimos Jack Yakoub, Patriarchal Vicar for Youth Affairs and Religious Education, Mor Maurice Amsih, Archbishop of Al-Jazeerah and Euphrates, and Mor Gabriel Dahho, Patriarchal Vicar in Jerusalem, Jordan, and the Holy Lands, as well as the monks of Mor Aphrem Monastery were also present in this session.
The youth asked about the way the church can be closer to them and how they can better serve it. They also asked the guidance of His Holiness in applying the Christian values which can be seen as against the world. His Holiness explained that the church should take the Lord Jesus Christ as her model and follow His lead to be available for all and to reach out for the marginalized and the despaired. He especially explained the role of the clergy in being close to the people. He added that spirituality is not in conflict with social life and the challenge of the Christian life is to remain rooted in Christ Who strengthens us and keep us steadfast in this world.
The Syriac youth were also interested to hear about the different projects that the church is doing, especially in relation to the Syriac language. His Holiness pointed out that Antioch Syrian University is a purposeful educational project that the Patriarchate is doing to encourage the youth to invest their talents in higher education. He announced that Syriac language will be introduced in its curriculum soon and that the Syriac Institute in Damascus will also open soon and will be a place to host international conferences and give courses on the Syriac language and heritage.
Questions on abortion, euthanasia, organ donation, etc… were asked and His Holiness explained the official stand of the church on these issues related to ethics. The church supports the human life and refuses all forms of killing; this is the general principle by which the church is the guardian of human life and dignity.
At the end of the session, His Holiness blessed the participants of SYGG Syria 2019 and encouraged them to offer their lives for the service of the church by answering the Lord's calling for them, each in their own way.
This slideshow requires JavaScript.