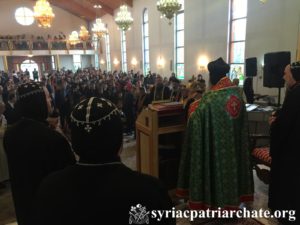 On September 27, 2019, His Holiness Patriarch Mor Ignatius Aphrem II presided over ramsho (evening) prayer at Mor Ishayo Holoboyo Church in Gronau.
Their Eminences Archbishops: Mor Philoxenus Mattias Nayis, Patriarchal Vicar in Germany, Mor Julius Hanna Aydin, Director of Foreign Relations in Germany, Mor Polycarpus Augin Aydin, Patriarchal Vicar in Holland, and Mor Anthimos Jack Yakoub, Patriarchal Vicar for Youth Affairs and Religious Education were also present.
In his speech, His Holiness emphasized on the importance of Christian education that starts at home and continues in school and in the church. These are the places where children learn about their faith and get attached to their church traditions and dogmas. He spoke about the responsibility that the church has as a teacher to help children grow spiritually and reach the kingdom of God. His Holiness prayed for all those who work hard in the education and upbringing of the young generations, who are the future of the church and society.
His Eminence Mor Philoxenus Mattias Nayis welcomed His Holiness and thanked him for his visit as he mentioned the various important projects that the Patriarchate is doing under the wise leadership of His Holiness.
Then, His Holiness prayed the service (teshmeshto) of the martyrs at the monument of Sayfo in commemoration of the Syriac Genocide Sayfo.
At the Gala Dinner organized by the teachers of Nordheim-Westfalen and Mor Ishayo Holoboyo Church in support of Suboro TV, His Eminence Mor Anthimos Jack Yakoub introduced the Patriarchal Channel and spoke about its mission and vision. He also spoke about its various programs and the different ways it can be supported.
Their Eminences the Archbishops also encouraged the faithful to subscribe to the channel in order to receive the various programs it is offering. His Holiness blessed all those who contributed to the support of Suboro TV and hoped that it will succeed in its mission and reach its goals which are mainly to spread the gospel of the Lord to all.
This slideshow requires JavaScript.