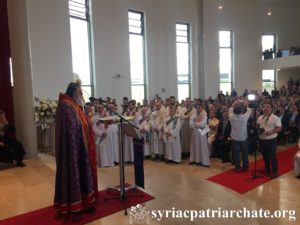 On September 28, 2019, His Holiness Patriarch Mor Ignatius Aphrem II presided over ramsho (evening) prayer at St. Peter and St. Paul Church in Bietigheim in Germany.
Their Eminences Archbishops: Mor Philoxenus Mattias Nayis, Patriarchal Vicar in Germany, Mor Julius Hanna Aydin, Director of the External Affairs in Germany, Mor Polycarpos Augin Aydin, Patriarchal Vicar in the Netherlands, and Mor Anthimos Jack Yakoub, Patriarchal Vicar for Youth Affairs and Christian Education, were also present at the prayer.
In his sermon, His Holiness expressed his joy to see this new church which was built by the efforts of the members of the community to be a house of prayer where they can meet to praise the Lord and glorify His name. Explaining the gospel that he read to the faithful, His Holiness said that the mystery of the kingdom of God is in doing mercy to others. He said that the Christian message is to forgive and thus show mercy and love. His Holiness spoke about the different talents that the Lord gives to us and thus we complete one another when we cooperate together in doing good and helping each other for the good of the community and its development. At the end of his sermon, His Holiness prayed that all may have their hearts ready to welcome the Lord and allow Him to reign over our lives as this building of the new church is ready to be consecrated and become a house of God.
This slideshow requires JavaScript.