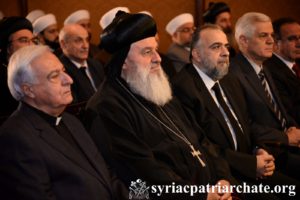 On October 21, 2019, His Holiness Patriarch Mor Ignatius Aphrem II inaugurated the National Encounter "Medium and Reconciliation" organized by Antioch Syrian University (ASU), in collaboration with the Forum for Development, Culture and Dialogue, at Hotel Sheraton in Damascus.
The inauguration was also attended by His Excellency Minister of Endowments Dr. Mohammad Abdulsattar Al-Sayyid. Their Eminences Archbishops: Mor Timotheos Matta Al-Khoury, Patriarchal Vicar in the Patriarchal Archdiocese of Damascus, Mor Anthimos Jack Yacoub, Patriarchal Vicar for the Youth Affairs and Christian Education, Mor Boutros Kassis, Patriarchal Assistant and Patriarchal Delegate in the Archdiocese of Aleppo and Environs, and Mor Yacoub Babawi, Patriarchal Vicar for the Affairs of the Monks and the Administration of Mor Aphrem Seminary in Maarat Saydnaya.
Dr. Rakan Razzouk, President of ASU, and Rev. Dr. Riyad Jarjour, President of the Forum for Development, Culture and Dialogue, as well as the Minister of Endowments, spoke about the role of Reconciliation in rebuilding the Syrian society after the crisis in Syria.
In his speech, His Holiness spoke about three aspects of reconciliation: the reconciliation with God, with others, and with one's self. He alluded to the role of the organizations that help met the needs of the people; however, he underlined the fact that there is still a need to restore the moral setting that was before the war, and to restore the trust among the people in order to maintain the harmony of the society.
This slideshow requires JavaScript.