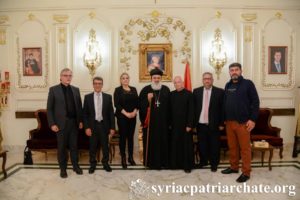 On October 8, 2019, His Holiness Patriarch Mor Ignatius Aphrem II received a delegation from the International Society for Oriental Christians, at the Patriarchate Headquarters in Bab Touma – Damascus. The delegation included Mr. Hanna Afrim, Paulos Kurt, Heinz Neff as well as journalists and authors.
During the meeting, His Holiness welcomed the delegation and appreciated their positive attitude and support of the Syrian people who is winning the fight against terrorism and conspiracy. He emphasized the importance of this visit to observe the reality and visit the diverse projects of the Patriarchate in order to offer the support and aid for the Syrian people who are still attached to their land and country
In turn, the members of the delegation expressed their joy to visit different cities and regions in Syria to transmit to their governments the truth of what is happening in Syria.
The meeting was attended by His Eminence Mor Timotheos Matta Al-Khoury, Patriarchal Vicar of the Patriarchal Archdiocese of Damascus, and Very Rev. Raban Boutros Kassis, Director of the Financial Department, General Manager of EPDC and the Patriarchal Delegate in the Archdiocese of Aleppo and Environs.
This slideshow requires JavaScript.