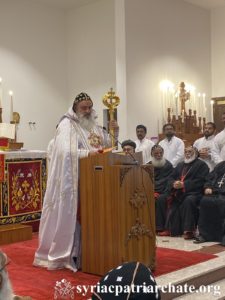 On November 22, 2019, His Holiness Patriarch Mor Ignatius Aphrem II celebrated the Holy Qurobo at Morth Shmouni Church in Ghala – Oman.
In his sermon, His Holiness spoke about the important Regional Holy Synod which is convened to discuss the situation of the Church in India and the recent developments there. His Holiness then spoke about the annunciation of the angel to the Virgin Mary about the birth of the Lord and he pointed out the greatness of the mystery of God's incarnation of the Lord and His love towards mankind.
His Holiness was assisted by their Eminences Archbishops: Mor Gregorius Joseph, Metropolitan of Cochin and Metropolitan Trustee of the Syriac Orthodox Church in India and Mor Ireneos Paulose, Metropolitan of Kozhikod and Patriarchal Vicar in Oman, in the presence of their Eminences the Archbishops members of the Regional Holy Synod in India.
This slideshow requires JavaScript.