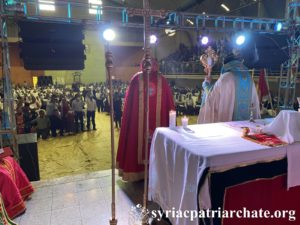 On November 8, 2019, His Holiness Patriarch Mor Ignatius Aphrem II celebrated the Holy Qurobo for the faithful of the Parish of San Pedro Carcha at the municipal stadium that accommodated the crowds of faithful.
In his sermon, His Holiness conveyed the love and solidarity of the faithful of the Syriac Orthodox Church in the Middle East to their brethren in Guatemala and Central America; he assured them that the church of Antioch is proud of them and their firm and steadfast attachment to the orthodox faith is an example for the entire church worldwide. Commenting of the gospel that was read, His Holiness explained that it is the duty of every Christian to share the good news and spread the word of God in the society where they live. It is the Lord's commandment to go and make disciples; this mission can be accomplished when we are armed with the Holy Spirit and the talents He gives us. When we are faced with suffering, we are encouraged by the apostles who went out and spread the Gospel despite being persecuted. His Holiness reflected on the fruits of the word in Guatemala and thanked the Lord for all His blessings. At the end of His sermon, His Holiness asked the faithful who attended the Holy Qurobo to pray for him and to remain joyful in the Lord for nothing can separate us from the love of God.
His Holiness was assisted by their Eminences Archbishops: Mor Yacoub Eduardo, Archbishop of Central America, Mor Clemis Eugene Kaplan, Patriarchal Vicar of the Archdiocese for the Western USA, Mor Selwanos Boutros Al-Nehmeh, Archbishop of Homs, Hama, Tartous and Environs, Mor Theethose Yeldho, Archbishop of the Malankara Archdiocese in Northern America, Mor Dionysius John Kawak, Patriarchal Vicar of the Archdiocese for the Eastern USA.
This slideshow requires JavaScript.