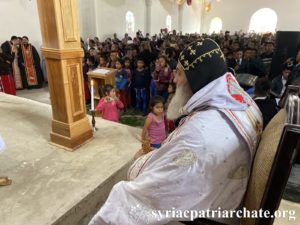 On November 13, 2019, His Holiness Patriarch Mor Ignatius Aphrem II celebrated the Holy Qurobo at the rural area of Chel – El Quiche, Guatemala.
In his sermon, His Holiness pointed out that our Lord Jesus Christ does not just give us commandments and instructions of things He does not know about, for the Lord so loved the world that He shed His blood for our sake. He added that the Lord experienced hunger, thirst, persecution and death in order to save us from death. When the Lord called us to be His people, He promised us that we will suffer from persecutions and tribulations; but He assured us not to fear those who hurt the body but cannot hurt the soul. His Holiness emphasized that when we trust the Lord's promises, we walk in the footsteps of our forefathers who were ready to become martyrs for the sake of their faith in the Lord Jesus Christ.
His Holiness then spoke about the Sayfo Genocide which took place around one century ago where half a million Syriac-speaking faithful were martyred by people who could not accept them because they were Christians. Those martyrs refused to deny Christ, just like the martyrs of Chajul who gave their lives under the persecution during the war in the 1980s, refusing to give up their faith. He concluded praying the Lord to give all courage to be witnesses for Christ and able to bear testimony to His salvation of man to all the nations.
At the end of the sermon, His Holiness blessed a commemorative stone dedicated to the Martyrs of Sayfo and of Central America.
His Holiness was assisted by their Eminences Archbishops: Mor Yacoub Eduardo, Archbishop of Central America, Mor Clemis Eugene Kaplan, Patriarchal Vicar of the Archdiocese for the Western USA, Mor Selwanos Boutros Al-Nehmeh, Archbishop of Homs, Hama, Tartous and Environs, Mor Dionysius John Kawak, Patriarchal Vicar of the Archdiocese for the Eastern USA. 
This slideshow requires JavaScript.