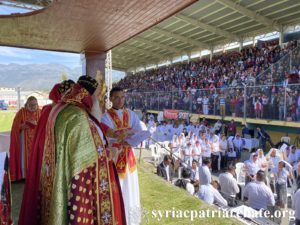 On November 10, 2019, His Holiness Patriarch Mor Ignatius Aphrem II celebrated the Holy Qurobo at the municipal stadium in Huehuetenango. The number of faithful who participated in the Holy Qurobo is estimated to be 6,000.
In his sermon, His Holiness spoke about the promises of the Lord Jesus Christ to His disciples. His Holiness affirmed that the Lord sent the Holt Spirit Who continues to work in the Holy Church. He guides us today to be members of the apostolic church and to be witnesses to its 2000 years old faith and traditions. He spoke about the common declarations signed by our church with other churches to declare our common faith in the Lord Jesus Christ. In addition to the Christological declarations, our churches are offering help and common witness to the Lord.
His Holiness was assisted by their Eminences Archbishops: Mor Yacoub Eduardo, Archbishop of Central America, Mor Clemis Eugene Kaplan, Patriarchal Vicar of the Archdiocese for the Western USA, Mor Selwanos Boutros Al-Nehmeh, Archbishop of Homs, Hama, Tartous and Environs, Mor Dionysius John Kawak, Patriarchal Vicar of the Archdiocese for the Eastern USA.
This slideshow requires JavaScript.