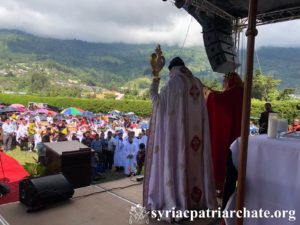 On November 12, 2019, His Holiness Patriarch Mor Ignatius Aphrem II celebrated the Holy Qurobo at an open park in Barillas with the participation of thousands of faithful from the region of Santa Cruz Barillas in Guatemala.
In his sermon, His Holiness gave grace to the Lord Who gives us days to consecrate a new church, a new house of God where we can glorify Him and praise His presence among His people. He added that it is obvious that the church which was consecrated today was constructed through the love, sacrifice and the solidarity of the people. It will be a home for each one of the faithful. His Holiness reminded the faithful that the consecration of the church is not just anointing its walls with the Holy Myron, but making it a special place where prayers and sacrifices are offered to the Lord. He explained how the Holy Myron, which is made of oil mixed with perfumes that were placed on the body of Christ upon burying it, was consecrated by the apostles to replace the laying of hands. His Holiness instructed the faithful to remember that their participation in the consecration is their declaration that this building belongs to God and to the people of God. His Holiness told the faithful that, when entering the open park, he felt as one of the disciples and the multitudes who were sitting at the feet of the Lord and listening to His great commission to go forth and spread the gospel. He added that wherever we go, we are faced with persecutions but we should remember not to fear those who harm the body but cannot harm our souls. He emphasized that we should not be discouraged by persecutions, but be ready to make sacrifices for the sake of our faith. His Holiness prayed for the faithful in Qamishly following the recent attacks in the city and for the rest in peace for the priest who got killed the previous day in Deirelzor.
His Holiness was assisted by their Eminences Archbishops: Mor Yacoub Eduardo, Archbishop of Central America, Mor Clemis Eugene Kaplan, Patriarchal Vicar of the Archdiocese for the Western USA, Mor Selwanos Boutros Al-Nehmeh, Archbishop of Homs, Hama, Tartous and Environs, Mor Dionysius John Kawak, Patriarchal Vicar of the Archdiocese for the Eastern USA.
This slideshow requires JavaScript.