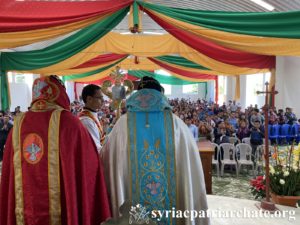 On November 17, 2019, His Holiness Patriarch Mor Ignatius Aphrem II celebrated the Holy Qurobo at St. John the Baptist Church in Sacapetequez – Guatemala.
In his sermon, His Holiness thanked the faithful for their love and affection manifested in the warm welcome that they received him with. He told them that, on the final day of the first apostolic visit to Central America, he is proud of the faith of the communities and their loyalty to the See of Antioch despite all difficulties. He expressed his feeling of great spiritual responsibility to work more and better serve the spiritual flock throughout the world. His Holiness promised them to continue to pray for them, especially for those who are hated and persecuted for their faith. He asked them not to worry because the Holy Spirit will strengthen them and fill them to speak the truth and witness to the Lord. He added that they joined the Church of Antioch which is founded on the apostolic faith and preserved its apostolicity and catholicity, welcoming people from different ethnicities and backgrounds. At the end of his sermon, he asked them to remain steadfast in their faith and be ambassadors of Christ among all nations.
His Holiness was assisted by their Eminences Archbishops: Mor Yacoub Eduardo, Archbishop of Central America, Mor Clemis Eugene Kaplan, Patriarchal Vicar of the Archdiocese for the Western USA, Mor Selwanos Boutros Al-Nehmeh, Archbishop of Homs, Hama, Tartous and Environs.
This slideshow requires JavaScript.