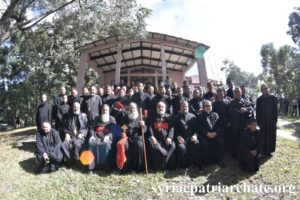 On November 9, 2019, His Holiness Patriarch Mor Ignatius Aphrem II met with the Clergy of Guatemala at the Headquarters of the Archdiocese of Central America in San Raymundo – Guatemala.
Their Eminences Archbishops: Mor Yacoub Eduardo, Archbishop of Central America, Mor Clemis Eugene Kaplan, Patriarchal Vicar of the Archdiocese for the Western USA, Mor Selwanos Boutros Al-Nehmeh, Archbishop of Homs, Hama, Tartous and Environs, Mor Dionysius John Kawak, Patriarchal Vicar of the Archdiocese for the Eastern USA, and Mor Titos Boulos Touza, Apostolic Nuncio for the Syriac Missions in Brazil, were also present in the meeting.
During the meeting, His Holiness blessed the clergy and encouraged them to be patient and wise in their ministries in order to better serve the flock of the Lord.
His Holiness also prayed on the foundation stone of St. Mary and St. George Church as well as the commemorative stone of St. Jacob Baradeus Cemetery.
This slideshow requires JavaScript.