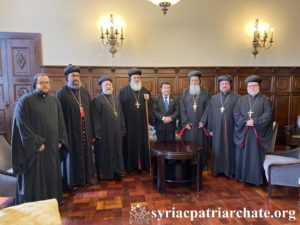 On November 6, 2019, His Holiness Patriarch Mor Ignatius Aphrem II met His Excellency Mr. Elder Suchite, Minister of Culture in Guatemala at the National Palace in Guatemala City.
His Excellency welcomed His Holiness and the accompanying delegation and spoke about the different activities that his ministry is doing.
His Holiness thanked His Excellency and spoke about the importance of culture as a bridge between civilizations and a human way of communicating together and promoting human values.
His Holiness was accompanied by their Eminences Archbishops: Mor Yacoub Eduardo, Archbishop of Central America, Mor Clemis Eugene Kaplan, Patriarchal Vicar of the Archdiocese for the Western USA, Mor Selwanos Boutros Al-Nehmeh, Archbishop of Homs, Hama, Tartous and Environs, Mor Theethose Yeldho, Archbishop of the Malankara Archdiocese in Northern America, Mor Dionysius John Kawak, Patriarchal Vicar of the Archdiocese for the Eastern USA, Very Rev. Raban Augeen Al-Khoury Nimat, Director of the Patriarchal Office in North America, and Very Rev. Raban Joseph Bali, Patriarchal Secretary and Media Office Director.
This slideshow requires JavaScript.