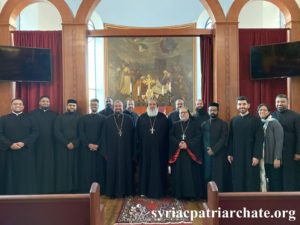 On November 1, 2019, His Holiness Patriarch Mor Ignatius Aphrem II received the Syriac Orthodox Seminarians who are studying at St. Vladimir Orthodox Theological Seminary in New York.
The meeting was attended by His Eminence Mor Dionysius John Kawak, Patriarchal Vicar of the Eastern USA.
His Holiness welcomed the seminarians and blessed them wishing them an excellent progress in their studies. The seminarians asked His Holiness some questions related to the theology and tradition of our Syriac Orthodox Church. His Holiness encouraged them to pursue theological education for the better service and ministry of the generations to come. He also encouraged them to particularly care for the youth, and to accompany them of their way to holiness and help them sanctify themselves in accordance to the purpose of the church in the salvation and sanctification of the believers. He warned them that they should not withdraw when tribulation or difficulties face them; he pointed out that the greater weapon against tribulation and doubt is to hold on firmly to the orthodox apostolic faith and the traditions of our church which we inherited from the forefathers. His Holiness emphasized that the Syriac faithful always held the church at the center of their lives and experienced the presence of God with all their senses, sacrificing a lot to keep her going and growing.
This slideshow requires JavaScript.