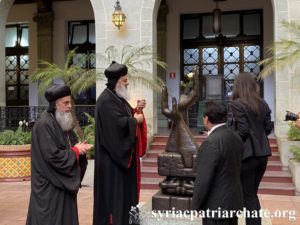 On November 6, 2019, in a special ceremony in honor of the first apostolic visit of His Holiness Patriarch Mor Ignatius Aphrem II to Guatemala, His Excellency Mr. Elder Jesus Suchite, Minister of Culture in Guatemala, announced His Holiness as "Messenger of Peace". The ceremony took place at the 'Peace Square' where a rose was placed on the natimal peace monument for peace in the Middle East.
His Excellency Minister Suchite spoke about the culture of peace that Guatemala is promoting after many years of conflict. He explained that the "Rose of peace" is an honorary token given to exceptional personalities who work for peace and defend it. He added that His Holiness receives this exceptional honor in recognition of his active defense of the persecuted Christians in the Middle East and for being a true messenger of peace throughout the world.
In his speech, His Holiness thanked the Guatemalan government and people for this honor and expressed his gratitude in this historical moment. He assured that this recognition shows the solidarity of the people of Guatemala with their fellows who are suffering in the Middle East. It is also s support for all those who work for peace. He then spoke about the similarities of the persecutions that the peoples of Guatemala and the Middle East suffered from. He added that the indifference of some powers towards the persecutions is the worst enemy of peace. At the end of his speech, His Holiness invited all to promote peace which is at the heart of our human and Christian mission.
Their Eminences Archbishops: Mor Yacoub Eduardo, Archbishop of Central America, Mor Clemis Eugene Kaplan, Patriarchal Vicar of the Archdiocese for the Western USA, Mor Selwanos Boutros Al-Nehmeh, Archbishop of Homs, Hama, Tartous and Emvirons, Mor Theethose Yeldho, Archbishop of the Malankara Archdiocese in Northern America, Mor Dionysius John Kawak, Patriarchal Vicar of the Archdiocese for the Eastern USA, Very Rev. Raban Augeen Al-Khoury Nimat, Director of the Patriarchal Office in North America, and Very Rev. Raban Joseph Bali, Patriarchal Secretary and Media Office Director Director, attended this solemn ceremony.
This slideshow requires JavaScript.