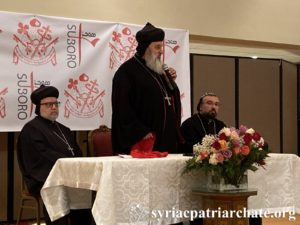 On November 1, 2019, His Holiness Patriarch Mor Ignatius Aphrem II attended a special gathering for the introduction of Suboro TV, held at Mor Aphrem Center in New Jersey- USA.
Their Eminences: Mor Dionysius John Kawak, Patriarchal Vicar for the Archdiocese of Eastern USA, and Mor Anthimos Jack Yakoub, Patriarchal Vicar for Youth Affairs and Religious Education also participated at the presentation.
His Eminence Mor Dionysius John Kawak welcomed His Holiness and the accompanying delegation and spoke about Suboro TV as a dream that came true. His Eminence emphasized that a channel run by the church is a necessity for the Syriac Orthodox Church to overcome the challenges of the diaspora and to reach the faithful who are spread throughout the world.
His Eminence Mor Anthimos Jack Yakoub delivered a short presentation that included video clips of the work of Suboro TV and its diverse programs. He explained its mission and goals; he stressed that Suboro TV's mission is closely connected to its name which means annunciation; indeed, it carries the Gospel (Good news) to every house and every viewer, as a preaching ministry with the aim of bringing the news of salvation to each person who watches it. He explained that Suboro TV is a purely Christian channel, the Voice of Antioch, spreading the Syriac Orthodox faith and broadcasting its tradition. He also gave an overview of how it works and the technological details of how it functions and how it can be installed in every home.
His Holiness also spoke about the stages of the establishment of Suboro TV; he raised some of the major challenges that it overcame through the support of their Eminences the Archbishops, the clergy and the faithful of the Church. His Holiness emphasized that he is making sure that the programs of Suboro TV continue to provide to the viewers the spiritual nourishment they are looking for and that is not offered by any other channel. He added that many programs are based on the liturgical life of the church and its traditions. At the end of the presentation, His Holiness answered the questions of the participants.
This slideshow requires JavaScript.