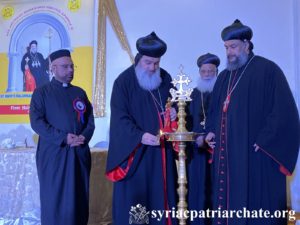 On November 2, 2019, His Holiness Patriarch Mor Ignatius Aphrem II participated in a Reception held in his honor and organized by St. Mary parish in Houston.
Their Eminences Archbishops: Mor Theethose Yeldho, Archbishop of the Malankara Archdiocese of Northern America, Mor Severius Abraham, Assistant Metropolitan of the Angamali Diocese, Mor Dionysius John Kawak, Patriarchal Vicar of the Archdiocese of Eastern USA, Very Rev. Raban Augeen Al-Khoury Nimat, Director of the Patriarchal Office in Northern America, and Very Rev. Raban Joseph Bali, Patriarchal Secretary and Media Office Director were also present.
Upon the reception of His Holiness, the vicar of the church and the clergy welcomed him and the accompanying delegation and traditional Malayalee dances were performed. Then His Holiness lit the lamp of peace.
His Eminence Mor Theethose Yeldho welcomed His Holiness expressing the love of the faithful of St. Mary Church in Houston and their eagerness to receive the Patriarch of Antioch in their parish. He added that the members of the church renew their loyalty to the throne of Antioch and to the faith of their forefathers. His Eminence Mor Severius Abraham also spoke about the role of His Holiness in strengthening the flock in difficult times and in affirming the strong relationship between Antioch and the Syriac Orthodox Church in India.
His Holiness opened his speech by blessing the faithful who are strongly attached to the Holy See of Antioch and he considered them to be the "heart" of the Syrian Orthodox Church. He remembered the honorable sacrifices that their forefathers made in defense of the apostolic faith and the church tradition. He emphasized that peace is built on justice and respect for everybody and that the only way to be true Christians is to allow the Lord to work in our hearts and lives because people see God through us and we are means for others to believe.
The reception was enriched by many cultural events performed by the children and youth, members of the Sunday School and youth movements in the parish.
This slideshow requires JavaScript.