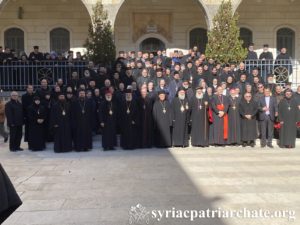 On December 21, 2019, His Holiness Patriarch Mor Ignatius Aphrem II participated in the Christmas Spiritual Retreat for the Clergy of Damascus, held at the Maryamite Cathedral of the Greek Orthodox Patriarchate of Antioch and All the East. His Beatitude John X, Greek Orthodox Patriarch of Antioch and All the East hosted the retreat and His Beatitude Joseph Absi, Greek-Melkite Catholic Patriarch of Antioch and all the East, Alexandria, and Jerusalem, as well as His Eminence Mario Cardinal Zenari, Apostolic Nuncio in Damascus, also participated in the retreat.
Their Eminences Archbishops: Mor Timotheos Matta Al-Khoury, Patriarchal Vicar in the Patriarchal Archdiocese of Damascus, Mor Anthimos Jack Yacoub, Patriarchal Vicar for Youth Affairs and Christian Education as well as a number of the Reverend priests, monks, and seminarians from Mor Aphrem Monastery in Maarat Saydnaya also participated in the retreat.
During the retreat, the Greek Orthodox Patriarchal Choir chanted Christmas hymns and carols for the occasion.
In his word, His Holiness Patriarch Mor Ignatius Aphrem II emphasized that hunger and conflicts that surround us are the result of the irresponsible actions of men and of their materialistic desires. He called upon the clergy on the occasion of Christmas to meditate their ministry and have a mission of remembering the needy and visiting them to help them and serve them with joy so that they may rejoice in the Lord with us.
His Beatitude Patriarch Joseph Absi spoke about the special reverence of the feast of Nativity while reminding the clergy of their initial calling to serve the poor and marginalized with a pure heart and conscience.
His Beatitude Patriarch John X spoke about the Divine Providence that is the truth of this holy feast in which a child communicated to us the love of God and His care for His creation. He prayed for each family and asked the King of peace to spread His peace, especially inner peace, towards all people.
This slideshow requires JavaScript.