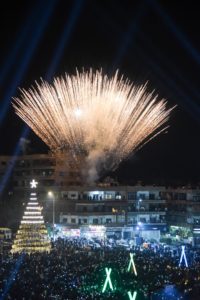 On December 20, 2019, His Holiness Patriarch Mor Ignatius Aphrem II inaugurated the Christmas Tree at the Abbasiyyin Square in Damascus. Thousands of people gathered to be part of this joyful event.
Their Eminences Archbishops: Mor Timotheos Matta Al-Khoury, Patriarchal Vicar in the Patriarchal Archdiocese of Damascus, Mor Anthimos Jack Yacoub, Patriarchal Vicar for Youth Affairs and Christian Education, and Very Rev. Raban Joseph Bali, Patriarchal Secretary and Media Office Director, accompanied His Holiness to the inauguration ceremony.
In his speech, His Holiness named the square "the square of life" pointing out to the suffering of the Syrian people that this square witnessed during the difficult times of the crisis. Then, it was restored from its ashes to be a place of gathering, uniting the Syrian people irrespective to their religions. He added that this celebration is an occasion to draw a smile on the children's face and to give hope to all people. The lively city of Damascus is thus sending a message to the entire world that peace starts from the heart and all people have a desire for peace. He wished all a Merry Christmas and greeted the Syrian army who is giving lots of sacrifices to protect Syria and its people. He prayed for peace throughout the world and wished all the Syrian people a blessed season.
This event is the result of the hardwork of Sabro Team under the leadership of Very Rev. Raban Barsoum Kando who coordinated the organization of many Christmas activities including the giant Christmas Tree at the Abbasiyyin Square.
The event included also a performance by the orchestra of the Syrian Army which played several songs for Christmas and the holiday season. The Hymn Chanter Abeer Nehmeh also performed several chants and carols in Syriac and Arabic.
This slideshow requires JavaScript.