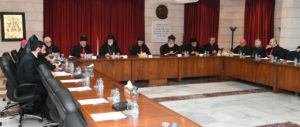 On January 28, 2020, His Holiness Patriarch Mor Ignatius Aphrem II participated in the Spiritual Summit held at the Maronite Patriarchate Headquarters in Bkerke upon the invitation of His Beatitude Cardinal Mar Bechara Boutros Al-Rai, Maronite Patriarch of Antioch and All the East.
The meeting was also attended by their Holinesses, Beatitudes and Excellencies: Aram I, Armenian Orthodox Catholicos of Great See of Cilicia, Mor Ignatius Youssef III Younan, Syriac Catholic Patriarch of Antioch, Gregory Bedros XX Gabroyan, Armenian Catholic Patriarch, Joseph Absi, Greek Catholic Melkite Patriarch of Antioch and All the East, Michel Kassarji, Chaldean Archbishop of Beirut, Bishop Cesar Essayan, Apostolic Vicar of Beirut, and Rev. Dr. Joseph Kassab, Head of the High Evangelical Synod of Syria and Lebanon,
His Holiness was accompanied by Very Rev. Raban Joseph Bali, Patriarchal Secretary and Media Office Director.
Following their meeting, their Holinesses, Beatitudes and Excellencies issued a statement in which they expressed their relief to see ministers with expertise in their ministries in the newly formed Lebanese Government. They called for the fight against corruption and to retrieve the public funds, insisting on the right for peaceful demonstration. They condemned the chaos in the Lebanese streets. The fathers encouraged the international community to support Lebanon economically and financially. They urged the international community to work on establishing peace in the region and prayed for the safe return of the two abducted Archbishops of Aleppo Boulos Yaziji and Mor Gregorius Youhanna Ibrahim.
This slideshow requires JavaScript.