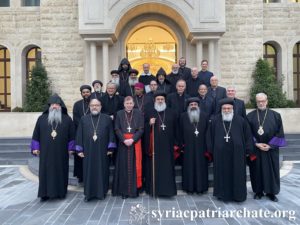 On January 27, 2020, His Holiness Patriarch Mor Ignatius Aphrem II met the Co-Chairmen and members of the International Joint Commission for the Theological Dialogue between the Catholic Church and the Oriental Orthodox Churches, which holds its international meeting at our Syriac Orthodox Church in the Patriarchal Residence – Atchaneh, Lebanon.
After the evening prayer which was attended by the members of the International Commission, His Holiness welcomed his guests and highlighted the importance of the dialogue between the churches, its different stages as well as the progress it made in bringing the churches closer together towards unity in Christ. He emphasized the role of the apostolic churches in keeping the faith and the teachings of the apostles and the fathers. His Holiness prayed that the Church can remain the one body of Christ, Who is her head and high priest. He appreciated the work of the committee and encouraged them to continue their efforts to bring together the different traditions of the church.
In turn, the members of the commission thanked His Holiness for his hospitality and the Syriac Orthodox Church for hosting the meeting. His Eminence Cardinal Kurt Koch, President of the Pontifical Council for Promoting Christian Unity and Co-Chairman of the Commission, briefed His Holiness on the work of the Commission and the theme of their current meeting.
Their Eminences the members of the Commission from both the Catholic churches and the Oriental Orthodox Churches, were present at the meeting.
Their Eminences Archbishops: Mor Theophilus Georges Saliba, Archbishop of Mount Lebanon and Tripoli, Mor Theophilose Kuriakose, Patriarchal Vicar in Europe, and Mor Polycarpus Augin Aydin, Patriarchal Vicar in the Netherlands (Observer), who are the representatives of our Syriac Orthodox Church in the commission, also attended the meeting.
This slideshow requires JavaScript.