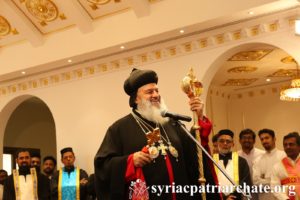 On February 14, 2020, His Holiness Patriarch Mor Ignatius Aphrem II celebrated the Holy Qurobo at St. Ignatius Cathedral in Dubai, on the occasion of the Feast of Patriarch Mor Ignatius Elias III.
He was assisted by their Eminences: Archbishops: Mor Eustatheos Ishak, Patriarchal Vicar in the UAE for the Jacobite Syrian Church, and Mor Bartholmaeus Nathanael Youssef, Patriarchal Vicar in the UAE and the Arab Gulf, Mor Chrysostomos Mikhael Chamoun, Patriarchal Vicar and Director of the Patriarchal Benevolent Institutions in Atchaneh, and Mor Boutros Kassis, Patriarchal Assistant.
In his sermon, His Holiness spoke about the circumstances that Patriarch Ignatius Elias III lived in, especially the persecutions and massacres that he witnessed. He spoke about his mission as messenger of peace and that he dedicated his life to worship of the Lord and witnessing to Him. His Holiness stressed that the Lord had chosen the saint Patriarch to lead the church by gather its flock around Christ our Lord. He mentioned the characteristics of his saintly biography, especially his love for ascetic life and work for unity.
At the end of the Holy Qurobo, His Holiness blessed the new church committee and thanked the old one for their dedication and work for the sake of the church. He also launched the new church phone application which will enable the parishioners to share and learn more about their parish and their church.
This slideshow requires JavaScript.