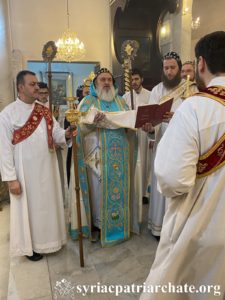 On February 2nd, 2020, on the occasion of the feast of the Presentation of the Lord to the Temple, His Holiness Patriarch Mor Ignatius Aphrem II celebrated the Holy Qurobo at St. Georges Patriarchal Cathedral in Bab Touma, Damascus.
He was assisted by His Eminence Archbishop Mor Anthimos Jack Yacoub, Patriarchal Vicar for Youth Affairs and Christian Education.
In his sermon, His Holiness spoke about the tradition of presenting the firstborns to the temple and its origins in the Old Testament. He mentioned how the Lord hit the Egyptians during Moses' times because Pharaoh did not free the people of God and resisted His command; as a result, all firstborns were to perish. However, the Lord saved the firstborns of His people by the blood of the lamb, which symbolized the sacrifice of the cross which is the salvation of man. His Holiness also reminded the faithful of the important witness of St. Simon the Elder who was alive to see the salvation of God's people and the prophecy which he found hard to believe, namely that the Virgin will give birth to a child.
During the Qurobo, His Holiness presided over the rite of blessing the candles according to the tradition of the Syriac Orthodox Church of Antioch.
This slideshow requires JavaScript.