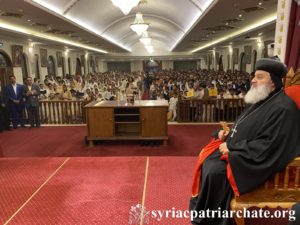 On February 13, 2020, His Holiness Patriarch Mor Ignatius Aphrem II presided over ramsho (evening) prayer at Mor Ignatius Cathedral in Dubai.
Their Eminences Archbishops: Mor Eustatheos Ishak, Patriarchal Vicar in the UAE for the Jacobite Syrian Church, and Mor Bartholmaeus Nathanael Youssef, Patriarchal Vicar in the UAE and the Arab Gulf were also present at the prayer.
His Holiness offered the service of saint Mor Ignatius Elias III on the occasion of the commemoration of his passing away in India. In his sermon, His Holiness spoke about the hatred of the world to Christian believers because they walk in the path of the Lord. He emphasized that love towards everyone, even our enemies, should be our way of life and witness to Christ and our victory over hatred in this world. He also spoke about the life of St. Ignatius Elias III as well as his work for peace in the Holy Syriac Orthodox Church. He especially mentioned his travel to India despite his old age and illness to bring peace to the church there. His Holiness thanked the faithful of St. Ignatius Cathedral in Dubai for their love to the Church and their zeal to preserve the faith of the forefathers.
This slideshow requires JavaScript.