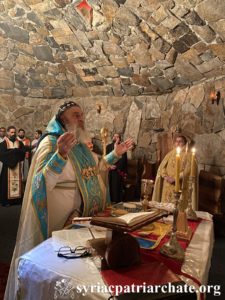 On March 25, 2020, His Holiness Patriarch Mor Ignatius Aphrem II celebrated the Holy Qurobo on the occasion of the Feast of the Annunciation, at the Grotto of the Belt of the Holy Virgin Mary, at Mor Aphrem Monastery in Maarat Saydnaya.
During the Holy Qurobo, His Holiness was assisted by His Eminence Archbishop Mor Yacoub Babawi, Patriarchal Vicar for the Affairs of the Monks and the Administration of Mor Aphrem Theological Seminary. The Holy Qurobo was attended by their Eminences Archbishops: Mor Anthimos Jack Yacoub, Patriarchal Vicar for Youth Affairs and Christian Education, and Mor Boutros Kassis, Patriarchal Assistant, as well as the monks and seminarians.
In his sermon, His Holiness spoke about the journey of lent the middle of which we have reached, thanking the Lord for the blessings that we are receiving in this lent. He spoke about the pandemic that is spreading and explained that disease is not a punishment from God, because God is merciful and loves people; He wishes that all be saved and takes care of the smallest details of our lives. His Holiness commended the faithful to seek the Lord's protection while they are aware of their responsibilities towards themselves and others. He spoke about the importance of the Feast of Annunciation which the church is celebrating today. It reminds us of the obedience of the Virgin Mary and her total submission to the will of God, having full faith in His promises. His Holiness emphasized that the Lord is offering us a true example of faith in these difficult times through the Virgin Mary who accepted the challenge of appearing pregnant to the society, but being strengthened by her faith that the Lord is with her and will not let anything harm her. His Holiness then spoke about the faith of King Abgar who heard about Jesus Christ and believed in Him. After a short historical overview about the kingdom of Urhoy, His Holiness explained the story of King Abgar who was sick and sought Jesus to be healed by Him. His Holiness concluded by calling the faithful to be like Mary and Abgar, i.e. to believe and trust the Lord, knowing that what is impossible for men is possible for God.
This slideshow requires JavaScript.