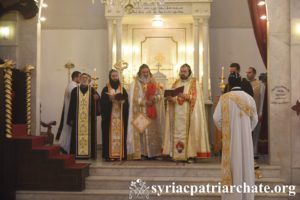 On April 19, 2020, His Holiness Patriarch Mor Ignatius Aphrem II celebrated the Holy Qurobo on the occasion of Easter Sunday, at St. Georges Patriarchal Cathedral in Bab Touma, Damascus.
During the Holy Qurobo, His Holiness was assisted by their Eminences Archbishops: Mor Timotheos Matta Al-Khoury, Patriarchal Vicar in the Patriarchal Archdiocese of Damascus, Mor Anthimos Jack Yacoub, Patriarchal Vicar for the Youth Affairs and Christian Education, Mor Yacoub Babawi, Patriarchal Vicar for the Affairs of Monks and the Administration of Mor Aphrem Theological Seminary, and Armenian Orthodox Archbishop of Damascus Armash Nalbandian, as well as the clergy of the Patriarchate and the monks and seminarians of Mor Aphrem Theological Seminary.
In his sermon, His Holiness spoke about the resurrection which is a unique event, emphasizing on the surprise of the women who found the rock of the tomb removed and did not find the body of our Lord Jesus Christ in it. He pointed out that the resurrection is a divine truth that reveals the salvation that the Lord Jesus completed on the cross through His death, and by His victory over death, which gave us also victory over death and sin.
His Holiness assured that Jesus is living and that His resurrection is an extraordinary event because He rose with a spiritual body that can enter the upper room even though the doors were closed.
His Holiness explained the expression: "Peace to you" which the Lord uttered after His resurrection, greeting His disciples and pointing out to His resurrection that gives hope to the hopeless and preaches peace to all the earth.
He spoke about the pandemic of corona that has invaded the world and resulted in the death of hundreds of thousands. He emphasized the need for the hope of resurrection to believe that the resurrection that filled the hearts of the disciples with joy, safety, peace and hope, will also fill us with peace when we realize that the Lord Jesus is the sovereign over our lives and cares for us and protects us. He recommended that all measures should be following and prayed for the recovery of the sick and for peace in the entire world.
His Holiness recalled the painful event of the abduction of the Archbishops of Aleppo Boulos Yaziji and Mor Gregorius Youhanna Ibrahim and prayed for their safe return.
His Holiness concluded his sermon by offering congratulations and best wishes to the members of the church, in Syria and everywhere, especially those who have lost members of their families.
This slideshow requires JavaScript.