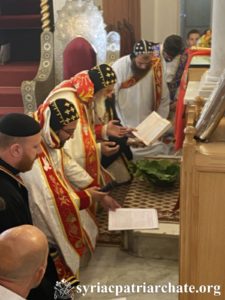 On June 7, 2020, His Holiness Patriarch Mor Ignatius Aphrem II celebrated the Holy Qurobo on the occasion of the Feast of the Pentecost, at St. George Patriarchal Cathedral in Bab Touma – Damascus.
His Holiness was assisted by his Eminence Archbishop Mor Timotheos Matta Al-Khoury, Patriarchal Vicar in the Patriarchal Archdiocese of Damascus.
In his sermon, His Holiness spoke about the Feast of the Pentecost which is the feast of the establishment of the church which was redeemed by the Lord Jesus Christ on the cross. His Holiness pointed out that the dwelling of the Holy Spirit on the disciples who were gathered in the upper room is an event that changed everything for them for the Holy Spirit appeared and was known to be the third person of the Holy Trinity. He is the Counselor and the Comforter; He encourages the disciples to go out and spread the gospel to the entire world. His Holiness added that the Holy Spirit protects the church from false teachings and confirms the faith of its children and comforts them during the times of tribulations and martyrdom. His Holiness continued his sermon by pointing out that the disciples fasted and prayed seeking the counsel of the Holy Spirit and His inspiration and leadership. He encouraged the faithful to seek the inspiration of the Holy Spirit in their lives so that the work of the Lord is apparent in our lives and the Spirit can fervently work and declare the glory of God in us.
During the Holy Qurobo, His Holiness celebrated the special three services of the Pentecost and the clergy sprinkled water on the faithful as a symbol of the dwelling of the Holy Spirit on the disciples in the Pentecost in Jerusalem.
This slideshow requires JavaScript.