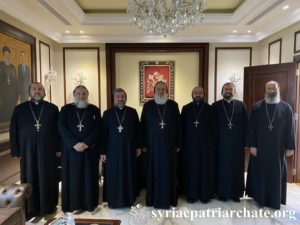 On June 24, 2020, upon the invitation of His Holiness Patriarch Mor Ignatius Aphrem II, their Eminences Archbishops: Mor Selwanos Boutros Al-Nehmeh, Archbishop of Homs, Hama, Tartous and Environs, Mor Timotheos Matta Al-Khoury, Patriarchal Vicar in the Patriarchal Archdiocese of Damascus, Mor Maurice Amsih, Archbishop of Jazeera and Euphrates, Mor Anthimos Jack Yacoub, Patriarchal Vicar for Youth Affairs and Christian Education, Mor Boutros Kassis, Patriarchal Assistant and Patriarchal Delegate in the Archdiocese of Aleppo and Environs, and Mor Yacoub Babawi, Patriarchal Vicar for Monks Affairs and Administration of Mor Aphrem Theological Seminary in Maarat Saydnaya, met at the Patriarchate Headquarters in Bab Touma in Damascus.
His Holiness opened the meeting with a prayer for the church and the safety of its faithful.
The meeting's agenda included the following topics:
1- The fathers discussed the draft of the internal code of the Council of Syriac Orthodox Archdioceses in Syria. After endorsing it, they have decided to convene its first meeting in September of this year and a committee was commissioned to prepare for this meeting.
2- The Fathers discussed the topic of vocations, especially the formation of priests to serve the youth. His Holiness encouraged their Eminences the Archbishops to motivate the youth to join the ranks of the clergy and to dedicate themselves to the service of the Lord where the need is great for clergy in the East and in the diaspora.
3- The Fathers emphasized the resuming of the church activities after they were suspended due to the preventive measures taken following the spread of Covid19. They stressed the necessity to conform to the measures of public safety.
4- The Fathers discussed the difficult economic situation of which the faithful and citizens in Syria are suffering, especially after the Caesar Act and the economic sanctions imposed on the Syrian people. They highlighted the efforts that the church is doing to help the people during this crisis.
5- The Fathers showed optimism towards the upcoming parliamentary elections in Syria and emphasized that the church is equally supportive of all the candidates. They hoped that the elected new members of the parliament will be up to the aspirations and ambitions of the Syrian people.
His Holiness concluded the meeting with a prayer and convey his blessings to all the members of the Syriac Archdioceses in Syria.
This slideshow requires JavaScript.