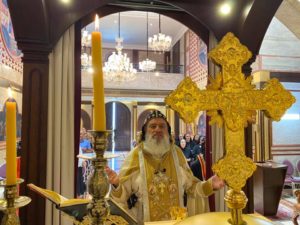 On September 14, 2020, on the occasion of the Feast of the Discovery of the Holy Cross, His Holiness Patriarch Mor Ignatius Aphrem II celebrated the Holy Qurobo at Mor Severius Church at the Patriarchal Residence in Atchaneh – Lebanon.
His Holiness was assisted by their Eminences Archbishops: Mor Chrysostomos Mikhael Chemoun, Patriarchal Vicar and Director of the Patriarchal Benevolent Institutions in Atchaneh, and Mor Anthimos Jack Yacoub, Patriarchal Vicar for Youth Affairs and Christian Education.
In his sermon, His Holiness spoke about the holy cross which was transformed from a symbol of disgrace and death to a symbol of victory and life. His Holiness pointed out that the church celebrates the feast of the discovery of the cross where, according to tradition, Queen Helen, mother of the Roman King Constantine, searched for the cross on which the Lord Jesus Christ was crucified. After digging in the location where they told her, she found three crosses. After putting these crosses on a dead body, she was able to discern which one was the holy cross, because it brought the dead person back to life. King Constantine used the sign of the cross to win over his enemies during wars. His Holiness emphasized that we all need the power of the cross which is our spiritual weapon that leads us to victory against our spiritual enemies, namely sin, satan and death. He added that the cross became a symbol of reconciliation between earth and heaven, man and God, and thus became a sign of pride for us as St. Paul writes: as for me, may I never boast except in the cross of our Lord. At the end of his sermon, His Holiness asked the faithful to contemplate in the meaning of the cross each time they do the sign of the cross, because it is the power of God. He also prayed and asked the Lord to deliver us from the diseases and calamities and to bless us with His grace.
During the Holy Qurobo, His Holiness prayed the special service of the cross according to the rite of our Syriac Orthodox Church.
This slideshow requires JavaScript.