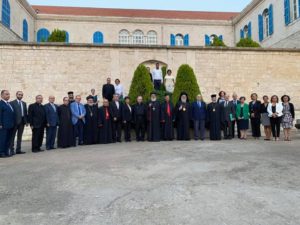 On September 18, 2020, His Holiness Patriarch Mor Ignatius Aphrem II inaugurated the sessions of the Executive Committee of the MECC, hosted by the Maronite Church at the Maronite Patriarchate in Bkerke.
His Holiness presided over the inaugural session in the presence of His Beatitude John X, Greek Orthodox Patriarch of Antioch and All the East, Rev. Dr. Habib Badr, Senior Pastor of the National Evangelical Church of Beirut, as well as Dr. Souraya Bachaalany, Acting Secretary General of MECC. His Holiness Pope Tawadros II, Pope of Alexandria and Patriarch of the See of St. Mark, co-hosting the meeting in Cairo, gave a welcoming speech through the internet with the participation of His Beatitude Cardinal Mar Louis Rafael Sako, Chaldean Patriarch of Babel and President of MECC for the Catholic family. His Beatitude Cardinal Mar Bechara Boutros Al-Raii, Maronite Patriarch of Antioch and All the East, welcomed the participants in Bkerke and wished them the best in their meeting.
After the opening prayer, Dr. Bachaalany gave a detailed report on the work of the council and its current situation. Since her mandate is over, the participants thanked her for her role and work in the council and gave her the honorary title of "honorary General Secretary of MECC". The participants elected the new General Secretary Dr. Michel Abs. They congratulated him and wished him the best in his service in the council. At the end of the meeting, a statement was issued and published.
His Eminence Mor Theophilus Georges Saliba, Archbishop of Lebanon and Member of the Executive Committee of MECC, Very Rev. Raban Joseph Bali, Patriarchal Secretary and Media Office Director, and Mr. Adel Syryany, the Associate General Secretary of MECC for the Oriental Orthodox Churches Family, were also present.
This slideshow requires JavaScript.