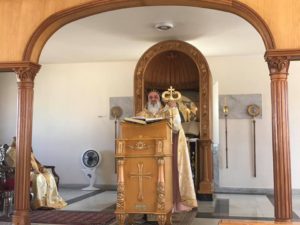 On October 11, 2020, His Holiness celebrated the Holy Qurobo of the 4th Sunday after the Feast of the Holy Cross at Mor Aphrem Church in Mor Aphrem Monastery in Maarat Saydnaya.
His Eminence Mor Yacoub Babawi, Patriarchal Vicar for Monks Affairs and the Administration of Mor Aphrem Theological Seminary in Maarat Saydnaya, assisted His Holiness in the Holy Qurobo which was also attended by the monks and seminarians.
In his sermon, His Holiness spoke about the Sundays that follow the Feast of the cross and how the church uses them to remember the Virgin Mary as well as the saints. This period is also used in preparation before the start of the liturgical year with the Sunday of the Consecration of the Church. His Holiness emphasized that this period is an opportunity to return to one's self and prepare in modesty and humbleness to be sanctified and renewed in the spirit. He pointed out that education and knowledge of man should aim at getting closer to the knowledge of God. If it fails in doing so, then it is a reason for pride which distances man from God.
This slideshow requires JavaScript.