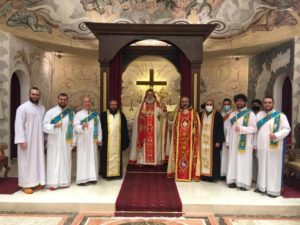 On January 3rd, 2020, His Holiness Patriarch Mor Ignatius Aphrem II celebrated the Holy Qurobo at St. Severius Church in the Patriarchal Residence in Atchaneh – Lebanon.
His Eminence Archbishop Mor Chrysostomos Mikhael Shemoun, Patriarchal Vicar and Director of the Patriarchal Be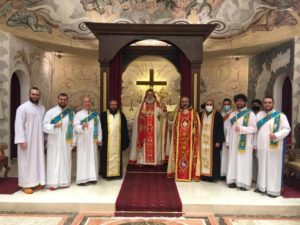 nevolent Institutions in Atchaneh, assisted His Holiness in the Holy Qurobo.
In his sermon, His Holiness wished all the faithful a happy and blessed new year, full of peace and happiness to all. He hoped that the pandemic COVID-19 will end and wished a speedy recovery for all those who are infected by it. His Holiness reminded that the period between Christmas and Epiphany is a time to celebrate the great divine act, the incarnation of God, i.e. His humility and becoming human for the sake of our salvation. He added that the Lord Jesus Christ was born to redeem us through His death on the cross. St. Aphrem expressed this by saying that Christ came out an incarnate God of the Virgin, and He came out a victorious God from the tomb. His Holiness then spoke about the act of giving, for Christmas is an occasion to give in the same way that God gave Himself to humanity. As for what we give to God in return, His Holiness said that God does not need anything from us, except a small place to dwell in, namely our hearts. When God is in our hearts, we can love everyone alike, despite our differences. He concluded his sermon asking the Lord to bless us to bare the fruits of faith and the good deeds.
During the Holy Qurobo, His Holiness ordained 4 new subdeacons to serve the altar of St. Severius Church.
This slideshow requires JavaScript.