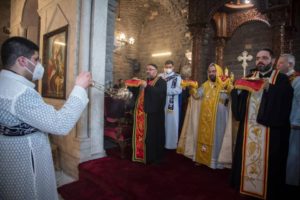 On February 21, 2021, His Holiness Patriarch Mor Ignatius Aphrem II presided over the first Holy Qurobo celebrated by His Eminence Mor Timotheos Matta Al-Khoury, Archbishop of Homs, Hama, Tartous and Environs, at the Lady of the Zunoro Cathedral in Homs, after his installation as Archbishop of Homs, Hama, Tartous and Environs.
The Holy Qurobo was attended by their Eminences Archbishops: Mor Timotheos Moussa Al-Shamani, Archbishop of the Archdiocese of Mor Matta Monastery, Mor Philoxenus Mattias Nayis, Patriarchal Vicar in Germany, Mor Dionysius John Kawak, Patriarchal Vicar in the Archdiocese of Eastern USA, Mor Nicodemus Daoud Sharaf, Archbishop of Mosul, Kirkuk and Kurdistan, Mor Maurice Amsih, Archbishop of Jazeera and Euphrates, Mor George Kourieh, Patriarchal Vicar in Belgium, France and Luxembourg, Mor Anthimos Jack Yakoub, Patriarchal Vicar for Youth Affairs and Christian Education, Mor Boutros Kassis, Patriarchal Assistant and Patriarchal Delegate of the Archdiocese of Aleppo and Environs, Mor Yacoub Babawi, Patriarchal Vicar for Monks Affairs and the Administration of Mor Aphrem Theological Seminary in Maarat Saydnaya.
In his sermon, His Eminence Mor Timotheos Matta Al-Khoury explained how the kingdom of God is within each one of us. He spoke about the continuous quest of every human being fir peace and love, and pointed out that every person continuously strives for happiness which is reached by opening up to the other and serving him. His Eminence then thanked His Holiness and the accompanying delegation for their presence in the ceremony of his installation. He assured them that he will continue to cooperate with them to build the kingdom of God in every person he meets, by serving them through the ministry to which the Lord called him.
After the Holy Qurobo, His Eminence Mor Timotheos Matta Al-Khoury received the faithful who congratulated him and wished him the best in his new ministry.
This slideshow requires JavaScript.