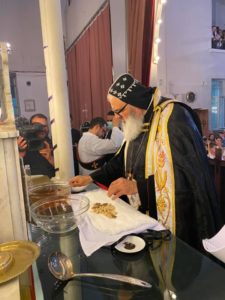 On April 30, 2021, His Holiness Patriarch Mor Ignatius Aphrem II celebrated the services of the worship and Burial of the Cross at St. George Patriarchal Cathedral in Bab Touma in Damascus.
His Holiness was assisted by His Eminence Archbishop Mor Anthimos Jack Yakoub, Patriarchal Vicar for Youth Affairs and Christian Education, as well as the clergy and seminarians. St. Aphrem Patriarchal Choir in Damascus chanted the special hymns for the occasion.
In his sermon, His Holiness spoke about the crucifixion as a unique event in history. His Holiness described the judgment of Christ to death on the cross pointing out that the crucifixion was the punishment reserved to the most dangerous criminals. His Holiness added that the earth trembled and the skies were shaken at the moment the Lord Jesus Christ was crucified; the rocks were broken and the tombs were opened and these were the signs of nature that a unique and extraordinary event was taking place on the cross, namely the death of the incarnated God. In reference to the Jubilee Year of Mor Jacob of Serugh, His Holiness read an Arabic translation of one of the mist beautiful poems on Good Friday, which talks about the most important characteristic criteria of the crucifixion of our Lord and His death on the cross.
This slideshow requires JavaScript.