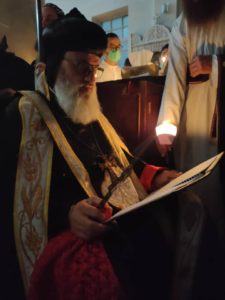 On April 25, 2021, His Holiness Patriarch Mor Ignatius Aphrem II celebrated the Service of Nahire (the Feast of Lights), at St. Georges Patriarchal Cathedral in Bab Touma, Damascus.
This service was attended by their Eminences Archbishops: Mor Anthimos Jack Yacoub, Patriarchal Vicar for Youth Affairs and Christian Education, and Mor Yacoub Babawi, Patriarchal Vicar for Monks Affairs and the Administration of Mor Aphrem Theological Seminary in Maarat Saydnaya, as well as the clergy of the Archdiocese and seminarians from Mor Aphrem Theological Seminary.
His Eminence Mor Yacoub Babawi spoke about the importance of time in our lives and how we should prepare to meet the Lord in His second coming, i.e. be prepared to the end of our lives on earth. His Eminence considered three lessons that we can learn from the parable of the 10 virgins, namely to be prepared, to have virtues that light our lives like the lamps of the virgins and to be merciful. The virtues are purity, fasting, prayer and self control, while the mercy is like the oil of good deeds which we need to fulfill the will of God Who wants mercy and not sacrifice.
This slideshow requires JavaScript.