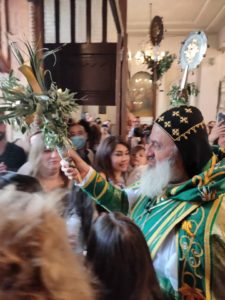 On April 25, 2021, His Holiness Patriarch Mor Ignatius Aphrem II celebrated the Holy Qurobo on the occasion of Palms Sunday, at St. Georges Patriarchal Cathedral in Bab Touma, Damascus.
During the Holy Qurobo, His Holiness spoke about the children who received the Lord Jesus Christ when He entered Jerusalem. He emphasized that the Lord Jesus taught that His kingdom is not of this world. While people were waiting for an earthly king, who is strong and enters the cities like victorious conquerors and destroys their enemies, the children welcomed the Lord Jesus and recognized that He is the Heavenly King and His kingdom is not according to this world, but it is a kingdom of the spirit. His Holiness added that when we look with the eye of the spirit, we understand the great humility that He did when He incarnated. His Holiness pointed out that many were confused with the Lord Jesus because He was not who people expected Him to be. At the end, His Holiness invited all the faithful to receive the Lord Jesus in their hearts to enter and guide their lives, claiming: Hosanna to the Son of God.
During the Holy Qurobo, His Holiness was assisted by His Eminence Archbishop Mor Anthimos Jack Yacoub, Patriarchal Vicar for Youth Affairs and Christian Education.
This slideshow requires JavaScript.