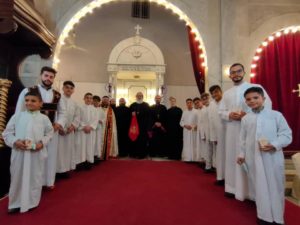 On April 29, 2021, His Holiness Patriarch Mor Ignatius Aphrem II celebrated the service of the washing of the feet at St. George Patriarchal Cathedral in Bab Touma, Damascus.
During this service, His Holiness called twelve children, representing the twelve Apostles and washed their feet following the example of the Lord Jesus Christ Who washed the feet of His disciples. It is a lesson in humility where we learn how serving others is greater than being served.
The service was attended by his Eminence Archbishop Mor Anthimos Jack Yacoub, Patriarchal Vicar for Youth Affairs and Christian Education.
At the end of the service, His Eminence Mor Anthimos Jack delivered a sermon, in which he spoke about the difference between the regret of Peter and Judas which led one to repent and the other to hang himself. He distinguished between the different types of repentance and emphasized the importance of true and wholehearted repentance. He also explained how repentance leads to the return of sinners to God.
This slideshow requires JavaScript.