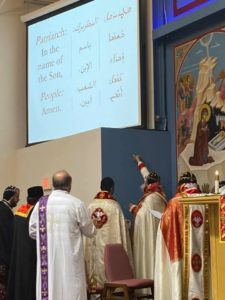 On May 30, 2021, His Holiness Patriarch Mor Ignatius Aphrem II consecrated St. Athanasius Church in Tampa – Florida.
His Holiness was assisted by their Eminences Archbishops: Mor Dionysius John Kawak, Patriarchal Vicar for the Archdiocese of Eastern USA, and Mor Timotheos Matta Al-Khoury, Archbishop of Homs, Hama, Tartous and Environs.
After the rite of the consecration, His Holiness celebrated the Holy Qurobo. In his sermon, he spoke about the resurrection of our Lord Jesus Christ which brought peace to the world to all those who believe in Him and seek Him. He also reminded that the Lord promised to be in the church forever and the gates of Hell shall not overcome it. His Holiness congratulated the faithful of St. Athanasius Church in Tampa for their new church pointing out that it is a holy place where the faithful can gather to praise the Lord and glorify His name.
After the Holy Qurobo, the president of the board Mr Chamoun Jallo thanked His Holiness for his support and recalled the different stages that the parish went through until this present day when they were able to consecrate the new church with its facilities. He presented the key of the church to His Holiness as a sign of obedience and seeking his blessings. The current parish priest Very Rev. Fr. Alan Shaltan also thanked all those who contributed towards the completion of the church building. The former parish priest Very Rev. Fr. John Kouki also spoke about his ministry to the community and the challenges it overcame throughout the different stages. His Eminence Mor Dionysius John Kawak commended the efforts of the board and the support of all parishioners and their contributions towards the success of this important endeavor.
His Holiness concluded the meeting with a word of blessing and presented Mr. Chamoun Jallo with a gift in appreciation for his long service to the parish, the archdiocese and the Syriac Orthodox Church in general.
This slideshow requires JavaScript.