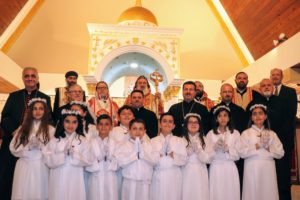 On May 28, 2021, His Holiness Patriarch Mor Ignatius Aphrem II celebrated the Holy Qurobo at St. Mary Lady of Zunoro Church in Jacksonville. Children of the parish also participated in the ceremonial communion.
Their Eminences Archbishops: Mor Dionysius John Kawak, Patriarchal Vicar for the Archdiocese of Eastern USA, and Mor Timotheos Matta Al-Khoury, Archbishop of Homs, Hama, Tartous and Environs, assisted His Holiness in the Holy Qurobo.
In his sermon, His Holiness spoke about the period that comes after the feast of the resurrection; this is a period of spiritual joy because the church celebrated the presence of the Lord in its midst, in the same way as He was present with His disciples until His ascencion to heaven and sending the Holy Spirit. The presence of God among His people is reassuring for He is in her midst and she shall not perish. His Holiness pointed out that the cross that is elevated in the church during this period is a symbol of the presence of the Lord and a sign to remember His salvation; it became a sign of pride, victory and life instead of death and shame. In reference to the ceremonial communion, His Holiness emphasized that the Lord Jesus Christ is present with us through the Eucharist which we celebrate and the partaking of His body and blood.
This slideshow requires JavaScript.