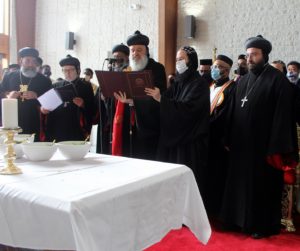 On May 22, 2021, His Holiness Patriarch Mor Ignatius Aphrem II inaugurated the new Archdiocesan Center of the Malankara Archdiocese of Northern America in New Jersey.
An official celebration was organized for the occasion. It was attended by their Eminences: Mor Theethose Yeldho, Archbishop of the Malankara Archdiocese of Northern America, Mor Silvanos Ayub, Knanaya Archbishop of America and Europe, Mor Dionysius John Kawak, Patriarchal Vicar for the Archdiocese of Eastern USA, and Mor Timotheos Matta Al-Khoury, Archbishop of Homs, Hama, Tartous and Environs, as well as the clergy of the Archdiocese.
Mayors of the region were also present as well as crowds of faithful members of the Archdiocese.
His Holiness led the prayer of blessing the new place, and inaugurated the new building.
In his speech, His Eminence Mor Theethose Yeldho thanked His Holiness for his fatherly love and spoke about the stages of the project of the Archdiocesan Center and its aims. He thanked all those who contributed to the completion of the work and the preparations for this historical day for the Archdiocese.
In his word, His Holiness congratulated the Malankara Archdiocese of Northern America and hoped that this center will be a meeting point for all the parishioners. His Holiness recalled the different stages that the Archdiocese went through since its foundation, through the various centers that were used until today. Despite all difficulties, people were able to establish this new center and His Holiness hoped that it will be a center for ministry to meet the spiritual needs of the Archdiocese and its aspirations for growth and development.
This slideshow requires JavaScript.