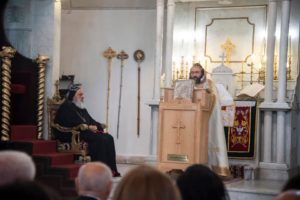 On July 16, 2021, His Holiness Patriarch Mor Ignatius Aphrem II presided over the first Holy Qurobo celebrated by His Eminence Mor Cyril Babi, Patriarchal Vicar for the Patriarchal Archdiocese of Damascus, at St. Georges Patriarchal Cathedral in Bab Touma – Damascus.
The Holy Qurobo was attended by their Eminences Archbishops: Mor Justinos Boulos Safar, Patriarchal Vicar in Zahleh and Beqaa, Mor Timotheos Matta Al-Khoury, Archbishop of Homs, Hama, Tartous and Environs, Mor Boutros Kassis, Patriarchal Assistant and Patriarchal Delegate of the Archdiocese of Aleppo and Environs, Mor Yacoub Babawi, Patriarchal Vicar for Monks Affairs and the Administration of Mor Aphrem Theological Seminary in Maarat Saydnaya, Mor Joseph Bali, Patriarchal Secretary.
Their Excellencies: Armenian Orthodox Archbishop of Damascus Armash Nalbandian, Greek Orthodox Patriarchal Vicar Bishop Aphrem Maalouli, Greek Orthodox Patriarchal Assistant Archbishop Mousa Al-Khoury and Archbishop Hanna Batsh , Greek Catholic General Patriarchal Vicar of Damascus Mgr Nicolas Antipa, Maronite Archbishop of Damascus His Excellency Mgr. Samir Nassar. Rev. Fr. Raymond Gergess, General Vicar of the Latin Bishop in Damascus also attended.
In his sermon, His Eminence Cyril Babi spoke about the plentiful harvest and the few laborers. He also expressed his wish to work with all the institutions of the Archdiocese for the growth and development of the Archdiocese.
After the Holy Qurobo, their Eminences Archbishops Mor Cyril Babi and Mor Joseph Bali received the faithful who congratulated them and wished them the best in their new ministry.
This slideshow requires JavaScript.