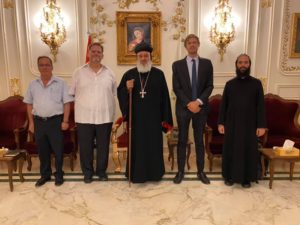 On July 24, 2021, His Holiness Patriarch Mor Ignatius Aphrem II received a delegation from the University of Lugano at the Patriarchate headquarters in Damascus. The delegation is headed by Prof. René Roux, Dean of the Faculty of Theology at the University of Lugano, and includes Mr. Luca Steinman representing the Federica Spitzer Foundation. They are visiting Antioch Syrian University to further develop the collaboration that exists between the two universities.
His Holiness discussed with his guests the pioneer role of Antioch University in offering the opportunity to the students to specialize in different fields and by being open to collaborate with international universities to acquire academic skills and to make use of their academic exchange program in diverse specializations. They also spoke about the degrees that will be offered by the university as well as the expansion plans that the University is going to implement in order to accommodate the needs of the students.
The meeting was attended by His Eminence Archbishop Mor Joseph Bali, Patriarchal Secretary, and Dr. Rakan Razzouk, President of Antioch Syrian University.
This slideshow requires JavaScript.